Posted by Scott on Jan 13th, 2012
I recently decided it would be worthwhile to see if I could quiet my computer. It seemed like a good return on investment, given that I spend most of my waking moments sitting next to it.
I've always built my desktop systems from components, and generally pick quiet CPU coolers. My curiosity was peaked when reading about PC cases which are specifically designed to quiet sound. They tend to include sound-dampening material on all sides, as well as use specially-designed hard drive trays which isolate vibration from hard drives using rubber grommets. They also use larger intake and exhaust fans, which spin more slowly and quietly.
The best review site I've found for quiet components is silentpcreview.com. Having settled on the Fractal Design Define R3 case, I ordered it and figured it would just be a matter of moving the guts of my current system into the new case.
After spending a few hours performing the transplant surgery, I powered the system up and was shocked to find that it sounded even louder than before. It didn't take me long to determine that it was my video card that was making the most noise. Somehow the quietness of the new case lowered the noise level of every other component, so the video card's cooling fan was now the primary source of noise.
I haven't played video games in years, and my current graphics card was likely overkill for running a handful of Compiz effects on my desktop. A bit more research led me to discover that there are a number of passively-cooled graphics cards on the market. Ironically, the one I chose is even more powerful than the fan-cooled one it replaced!
Today I installed the new video card, and the difference is too good to be true. My workstation is for all practical purposes silent – I have to strain to hear the fans. In my excitement I thought I'd share the relevant components I used:
Case: Fractal Design Define R3 w/ the two stock fans
Power Supply: Corsair VX550W
CPU Cooler: Zalman CNPS9900ALED
Graphics Card: Zotac ZT-40606-20L nVidia GeForce GT430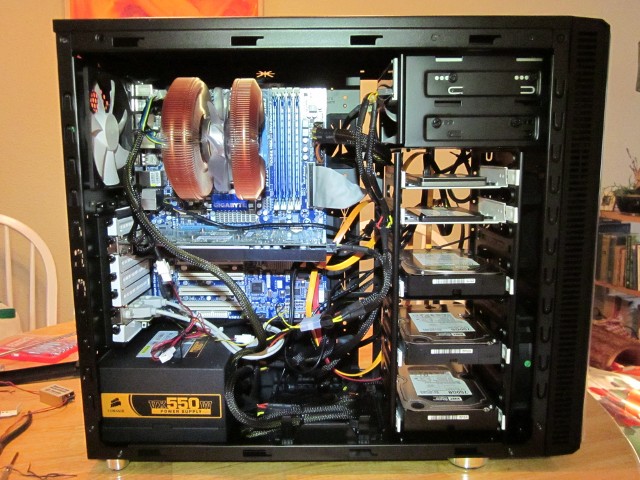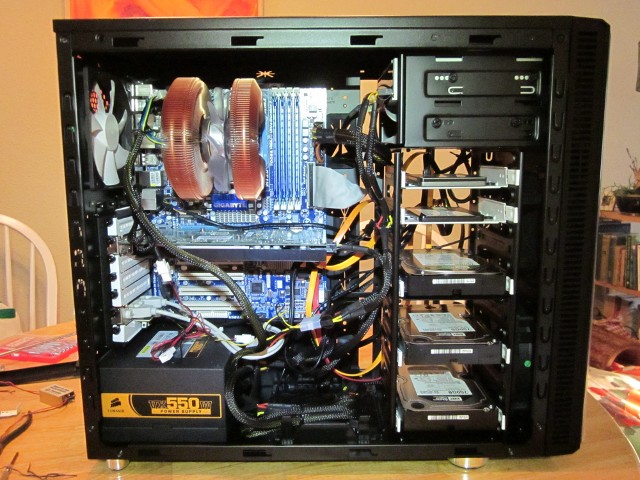 (This photo shows the build with my old, actively cooled video card in it)
Oh, and did I mention my CPU runs 5 degrees C cooler than it was in my previous case? You don't need to cook your system to run it quietly with the right components.
Leave a Comment