Posted by Scott on Sep 23rd, 2012
I thought it would be fun to write about how bicycling has evolved in my life over the past five years, when I got back into riding as an adult.
My original goals when I bought my first road bike were to find an activity that I could enjoy doing outdoors that could be an alternative to spending time at a gym. I didn't want to have to drive places to do this activity, and there were few options for decent mountain biking nearby, so I decided to get a road bike.
Of course, I figured what I needed was your typical racing-oriented road bike, so I ended up with an entry-level Specialied Allez: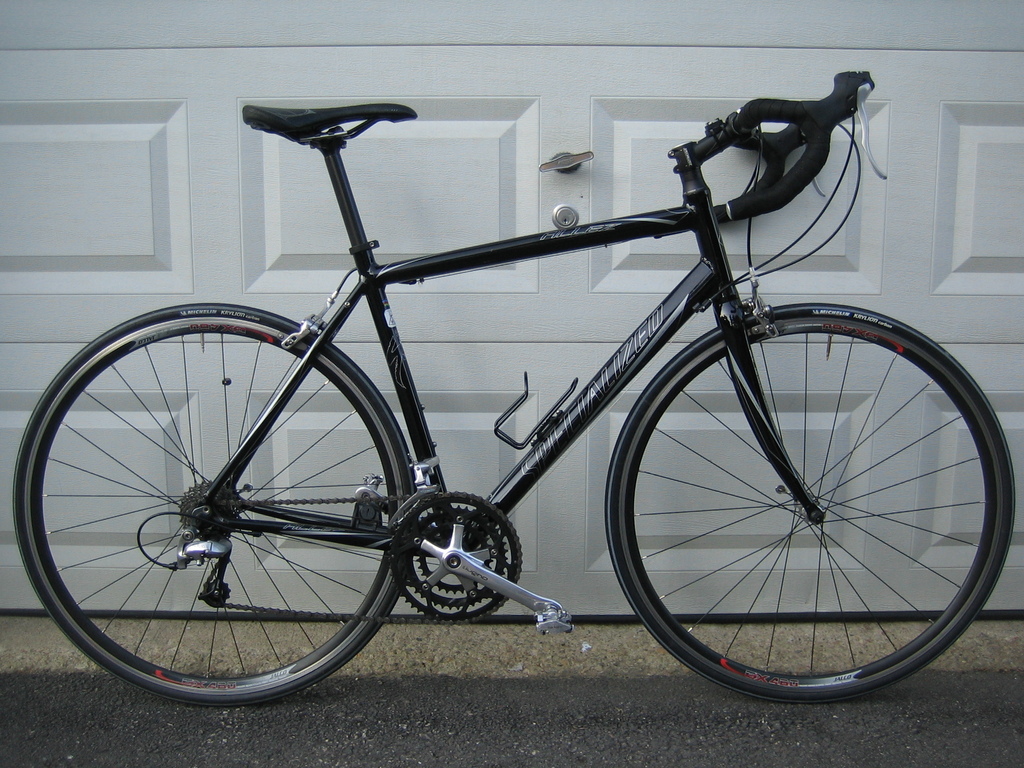 This was a great bike, and it really epitomized that feeling of just 'gliding' along that is so special about road riding.
As I am somtimes wont to do with new interests that I deeply enjoy and become passionate about, I soon became a bit obsessive about learning about my new sport and spent a lot of time in online forums. Through these forums I found many examples of people who were bike commuters, and rode to work and to run errands on a daily basis. For someone who couldn't get enough of bicycling, this seemed like the logical next step for me – after all, why wouldn't I want to substitute ridng my bike instead of driving my car? Anything that could add more time on my bike was good in my book!
So I started riding to work, finding decent back-road routes to get to my employment, and no longer needed to hit the gym during lunchtime. I became a bike commuter, and quickly found that my bike was not especially well-suited for carrying loads. I wanted something more comfortable to ride, not just for commuting but also for the increasingly longer rides I was doing during the summer.
There are some things that can make a bike much more suitable for commuting and longer-distance rides; a taller head tube, more "relaxed" frame geometry, clearance for wider tires, and rack and fender mounts. Soon I had my eye on a new bike, and replaced the Allez with a Salsa Casseroll: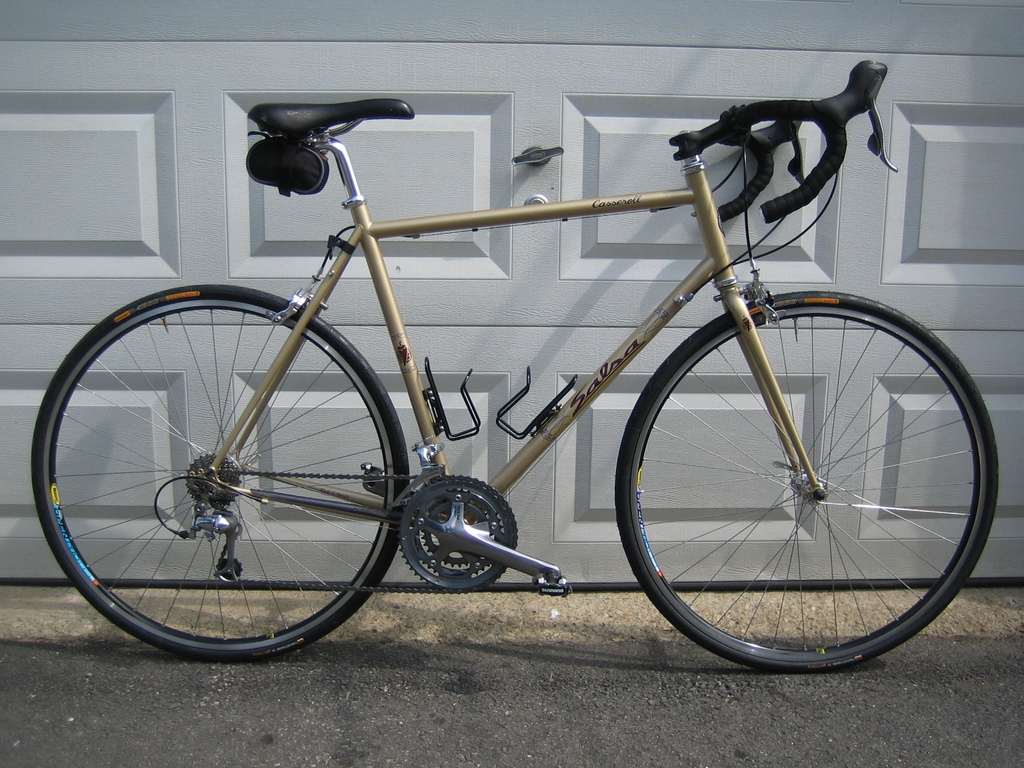 This was a significant step up in comfort and practicality while still being a road bike well-suited for riding centuries. I could set it up as above with a light set of wheels for my faster rides, and I could also put fenders on it for the mild but wet winters I started to encounter after moving to Portland. A rack gave me the versatility to mount pannier bags on the bike, and I had something I could run errands with: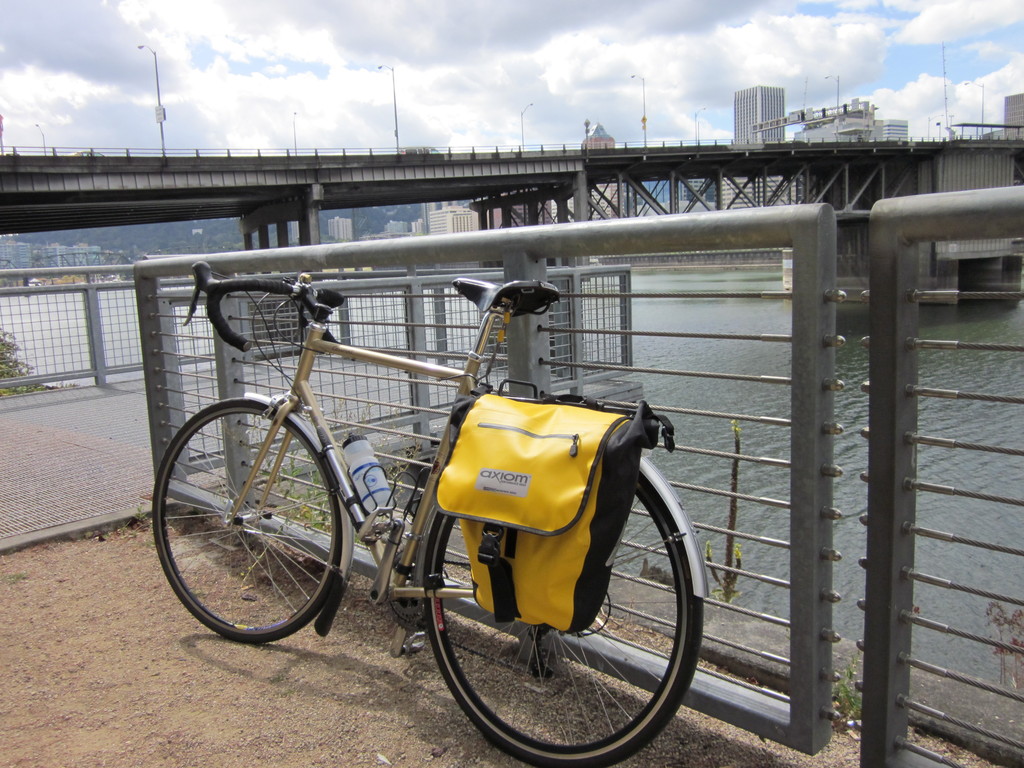 For most people, a bike like this is a perfect all-around, general purpose bike. But the longer I lived in Portland, the more I found myself using the bike as a serious commuter and errand-running machine. Trips to the grocery store and carrying increasingly heavy loads were taking their toll on my wheels, which needed to be replaced. Also, if you ride much in the rain, rim brakes will quickly wear down the surface of your rims and require more frequent wheel rebuilds.
Four years after getting the Casseroll, I decided it would be worthwhile to have a second bike – one set up for wet winter riding and that could carry large loads without pushing the bike's limits. Having a more upright riding position would be fundamental to this bike – no drop bars this time. And disc brakes work exceptionally well in wet conditions and no longer wear down your rims when braking. So meet the newest member of my family, a customized Surly Disc Trucker: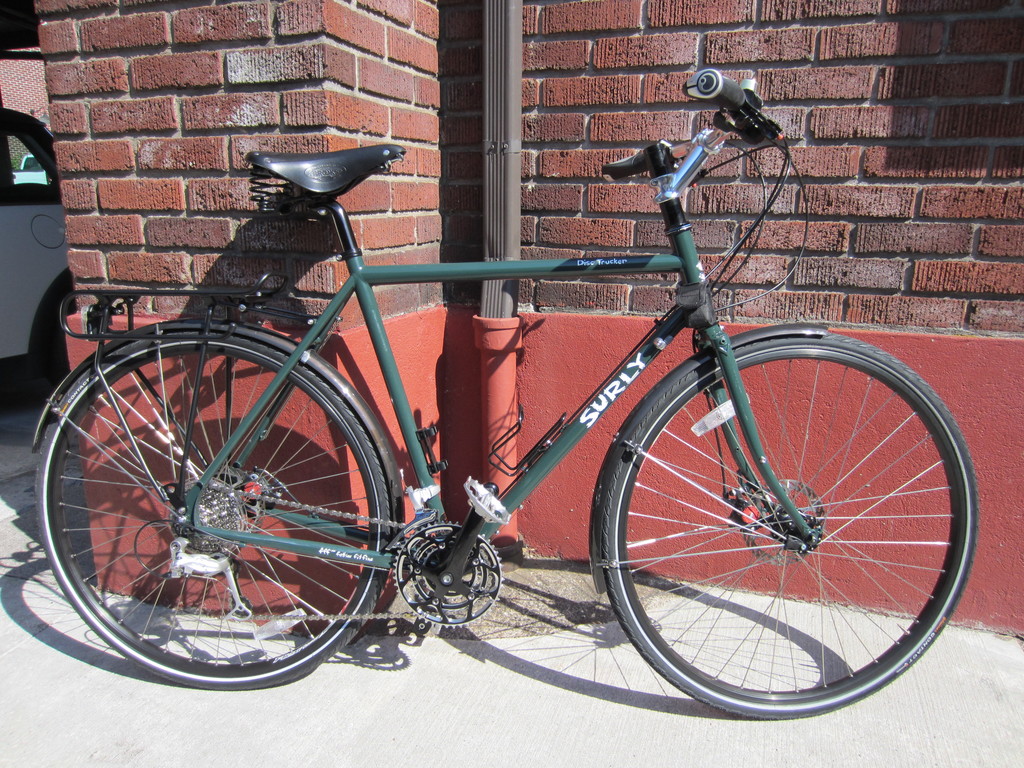 Riding this bike is just plain fun. The upright riding position feels like I'm sitting high, as one would in an SUV vs. a sedan. The tires on this bike are even wider than the Casseroll, and the sprung Brooks saddle also offers a bit more give on rough roads. The bike is definitely heavier and feels a bit slower than the Casseroll, but more than makes up for it with the fun factor.
So there you have it – a case study in the evolution of myself as a bicylist. I could now care less if I ever rode a racing oriented road bike again. It was a great introduction to the joys of riding on the road, but comfort, versatility, and practicality are the main attributes I seek to fulfill in my riding nowadays.
I guess you could say that's how I roll. 🙂